OMOSAKO KOI FARM
HIROSHIMA,JAPAN
Creating a New
Generation of
SHIRO-UTSURI,
to surpass
GO-SANKE
OMOSAKO KOI FARM was founded in Kure City, Hiroshima Pref., to sell Nishikigoi in 1960.
Enchanted by Nishikigoi, Ryuzo Omosako, the founder, made strides to promote Nishikogoi sales here.
Driving a truck for hours with a water tank, he brought back Nishikigoi from Ojiya City, Niigata Pref., the place of origin of Nishikigoi.
From the very beginning, each Nishikigoi has enchanted people by its one and only pattern. No Nishikigoi has the same pattern as others.
Among many Nishikigoi breeds, 'Shiro-Utsuri', with its patterns consisting of black and white, is a key breed to us.
At present, our koi farm is located at Tochihara Cho, Kure City, specializing in producing 'Shiro-Utsuri', shifting our business more to production from distribution.
Awarded in 'Shiro-Utsuri' category for 12 consecutive years
Our 'Shiro-Utsuri' has come to win more prizes at different fairs recently.
Among others, at annual 'All Japan Comprehensive Nishikigoi Fair', the most authoritative contest in the world, we have won the 'Grand Prize' for 12 consecutive years in the category of 'Shiro-Utsuri'.
We would like to thank all the people concerned with Nishikigoi and the fans in particular for appreciating our years long endeavour.
Nishikigoi grows day by day
Breeding technology and its equipment are also making progress
We are resolved to make a progress step by step with a view to enchanting every visitor at the first sight of our Nishikigoi.
We would request you to continue to support us.
Our Facility
Koi grows up carefree in rich nature
What We Do
What we do at our farm in a year。
May to July
June to September
After hatching, koi are screened as they grow bigger.
Grown-up Nishikigoi are released into a big Noike to get even bigger.
October to November
'Ikeage' will take place at Noike to pick up large Nishikigoi.
November to April
Domestic and overseas buyers come for newly picked-up Nishikigoi.
With agreed negotiations, Nishikigoi are shipped.
Excellent Nishikigoi are exhibited at a fair to compete its beauty.
Our Company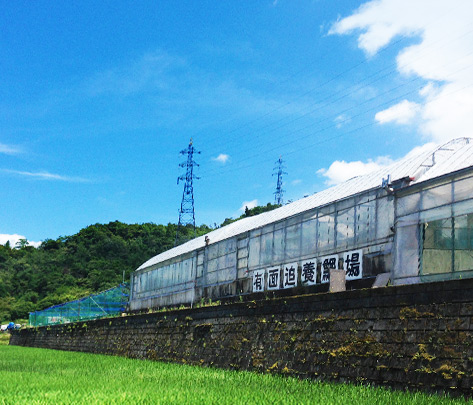 Name of the company

Omosako Koi Farm Co., Ltd.

Representative

Omosako, Takashi

Address

178 Tochihara Cho, Kure City, 737-0922

Phone

0823-33-8903

Fax

0823-33-8906

Breeds we are producing

Shiro-Utsuri, Showa-Sanshoku, Ginrin-Shiroutsuri, Ginrin-showa, Goshoku, Kujaku
HISTORY
1960

1960 Omosako Koi Farm was established.

1973

1973 Koi farm was built at Tochihara Cho.

1978

1978 First encounter with the koi to come up with production of Shiro-Utsuri

※

1979

1979 Startup to produce Shiro-Utsuri

1981

1981 'Ganso' parent koi from Sakai was introduced.

1984

1985 Male parent koi from Niigata was introduced.

1990

1989 Parent koi 'Tokumitsu' was introduced.

1992

1992 Omosako Koi Farm Co., Ltd. was established.

1992

1992 Parent koi 'Tatsuma-Utsuri' was introduced.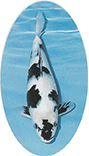 1st All Chugoku District Convention
Comprehensive Grand Champion was awarded to Shiro-Utsuri
Producer:Sakai Koi Farm